MANILA, Philippines – At least 3,599,109 people or 927,369 families have been affected by Typhoon Odette's attack over parts of Visayas, Mindanao, Palawan and the Bicol region, according to latest figures from the Department of Social Welfare and Development (DSWD) on Friday.
The people affected come from 5,652 barangays in the cyclone-ravaged areas, DSWD said in its Dromic Report on Typhoon Odette. Of the 3,599 million people affected, 303,592 or 76,293 families are still in 1,242 evacuation centers.
Of the damage to houses, 95,438 total losses and 204,332 partial losses were reported.
DSWD clarified that the numbers they released are not final as data collection was severely impacted by the typhoon and communications lines and electricity were not restored in several areas.
"In some areas hit by Typhoon Odette, there are power outages and limited internet access; hence the challenge of collecting data on the affected population and other important updates. Assessments and validations are carried out on an ongoing basis, "said the DSWD in its report.
Nevertheless, the ministry assured that it is currently working on ways to strengthen the relief effort – evidence of this is the joint support of the ministry, local government units (LGUs) and non-governmental organizations (NGOs) worth 90.10 million pesos.
The humanitarian aid was delivered to the areas affected by Odette on Friday, the DSWD assured.
"The aid from the DSWD consists of food and non-food items and serves to replenish the resources of the affected LGUs in support of their relief efforts for the communities hardest hit by the typhoon," the department said in a separate statement.
The organizations that have helped DSWD include the Japan International Cooperation Agency (JICA), which provides non-food disaster relief supplies such as 100 camping tents, 527 sleeping mats, 450 rolls of plastic sheeting, and 30 sets of generator with cable reel and 500 portable ones to victims of Typhoon Odette Canister / water container.
The above items are distributed in Bohol and Cebu.
DSWD said it is also partnering with World Food Program (WFP) on resource transportation for City and Kabankalan City.
"The department is also in constant coordination with LGUs and other partner agencies such as the Philippine Coast Guard, the Philippine National Police and the Philippine Navy to ensure the immediate delivery of relief supplies to disaster areas," added DSWD.
Other DSWD branch offices (FO) that were not affected by the typhoon have also helped, the department said.
"Initially, FO V allocated 11,000 FFPs for Eastern Visayas, 1,000 of which have already been delivered to FO VIII, while the remaining 10,000 food packages are still on the way," explained DSWD.
"On the other hand, FO IX delivered around 7,000 FFPs and other non-food items such as 135 blankets, 2,431 bath towels, 309 bed linen and 2,325 mosquito nets to the Caraga region on December 19. Likewise, FO XI sent about 8,000 grocery packs, 3,000 family sets, 2,500 sleeping sets, 1,500 hygiene sets and 2,000 malongs for the region on December 20th, "it added.
Typhoon Odette swept northern parts of Mindanao, southern parts of Visayas and Palawan, leaving a trail of destruction compared to the effects of super typhoon Yolanda.
As of Friday, the National Disaster Risk Reduction Management Council announced that 326 dead, 58 missing and 661 injured had been reported.
it
Subscribe to our daily newsletter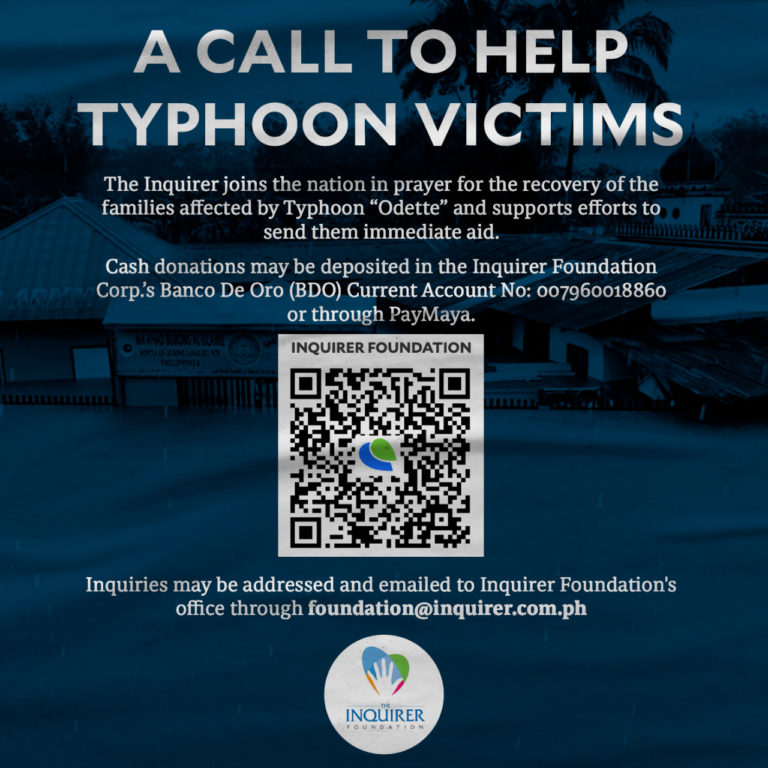 Continue reading
Don't miss any news and information.
Subscribe to INQUIRER PLUS to get access to The Philippine Daily Inquirer and other 70+ titles, share up to 5 gadgets, listen to the news, download as early as 4 a.m. and share articles on social media. Call 896 6000