ONEIf it gets too warm to be comfortable, the Anopheles mosquitoes, which transmit malaria, can lose the battle against climate change in Africa. But a new enemy is on the horizon.
If temperatures are too high for malaria parasites and the Anopheles mosquitoes that carry them, conditions may be just right for another mosquito called Aedes aegypti to thrive. This new mosquito is at risk from many of the viruses it carries.
I have worked on vector-borne diseases including malaria and several arthropod-borne viral diseases for over 20 years. A new paper by Erin Mordecai and colleagues published in Lancet Planetary Health offers a fascinating glimpse into the future where hot temperatures caused by global warming make much of Africa inhospitable to malaria, but other mosquito-borne diseases far are common.
also read: If Ebola, Zika and Nipah can cross borders, so can technology. Here lies the solution
Too hot for a mosquito; just right for another
The new study suggests that climate change may reduce malaria in sub-Saharan Africa. Malaria is a major culprit in Africa, with more than 200 million cases and 400,000 deaths each year. The parasites and the anopheles mosquitoes that transmit them are widespread in sub-Saharan Africa. However, malaria is not the only vector-borne disease that is at stake in Africa. Arthropod-borne viruses – or arboviruses – are also widespread across the continent.
Anopheles mosquitoes are known to transmit some viruses themselves – including Mayaro virus and O'nyong-Nyong virus. However, the main viral vector is the Aedes aegypti mosquito, which carries many different viruses, including dengue virus, the most widespread mosquito-borne virus on the planet.
Aedes aegypti and dengue virus (and other viruses) are common across Africa. However, they are not adequately reported and recognized as a public health threat as most surveillance efforts focus on malaria. In addition, some viral symptoms of dengue fever can mimic a malaria infection.
Aedes mosquitoes and arboviruses do better than Anopheles mosquitoes and malaria parasites in hotter environments. And if environmental conditions warm up over the next 60 years, malaria may subside, but viral pathogens like dengue with its associated rashes, fever, body aches and pains, and potentially more serious life-threatening hemorrhagic symptoms and symptoms of shock are likely to increase, Study ends.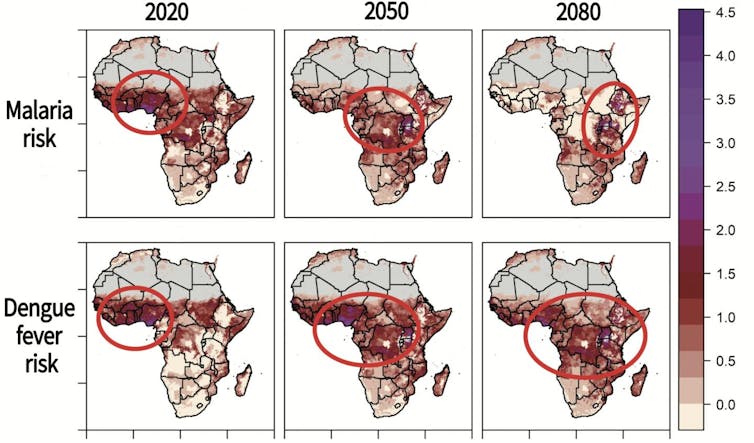 Possible scenarios of temperature-related changes in disease risk in sub-Saharan Africa under a normal climate scenario. Red circles indicate disease risk hotspots. The color scale indicates the intensity of human exposure risk based on temperature. Mordecai et al. / Lancet Planetary Health, CC BY-SA
New diseases on the rise
Vector control efforts that work on nocturnal, indoor-feeding Anopheles mosquitoes – such as insecticide-treated bed nets and insecticides – do not work on outdoor-feeding, day-biting Aedes mosquitoes. And unlike malaria, there are no drugs or therapeutic treatments for dengue or other viral pathogens.
If public health strategies are not adapted to the new realities of climate, outbreaks of dengue and other viruses will replace the now-vanished malaria epidemics, according to this new research report.
Mordecai and colleagues used data from various sources to develop and validate models for malaria and the dengue transmission potential. They showed that malaria transmission was best at around 25 degrees Celsius, while dengue transmission was much warmer at 29 ° C.
With climate change making Africa much hotter in the coming century, the authors predict that malaria cases will be significantly reduced by 2080 as Anopheles retreats to cooler areas. Dengue, however, will be widespread as climate and urbanization create a more widespread habitat for Aedes mosquitoes.
With Aedes aegypti already found in sub-Saharan Africa and with the presence of viral pathogens such as dengue virus, Mordecai and colleagues argue convincingly that public health efforts should view arbovirus surveillance and control as an emerging problem if malaria is falling.
Their results suggest that widespread transmission of arboviruses may already be under our noses, but not fully recognized.

Jason Rasgon, Professor of Entomology and Disease Epidemiology, Pennsylvania State University
This article is republished by The Conversation under a Creative Commons license. Read the original article.
Also read:World Malaria Day: Why a Millennial Disease Keeps Killing

Subscribe to our channels on YouTube & Telegram
Why news media is in crisis and how to fix it
You are reading this because you value good, intelligent, and objective journalism. We thank you for your time and your trust.
You also know that the news media is facing an unprecedented crisis. Chances are you will also hear about the brutal layoffs and wage cuts in the industry. There are many reasons why the media economy is broken. But one big thing is that good people don't pay enough for good journalism.
We have a newsroom with talented young reporters. We also have the toughest editorial team in the country, the best news photographers, and video professionals. We are building India's most ambitious and energetic news platform. And just turned three.
At ThePrint we invest in quality journalists. We pay them fair. As you may have noticed, we don't shy away from spending everything to make sure our reporters get where the story is.
This is associated with considerable costs. In order for us to continue offering quality journalism, readers like you have to pay for it.
If you think we deserve your support, be part of this endeavor to promote fair, free, courageous and questioning journalism. Please click the link below. Your support will determine the future of ThePrint.
Support our journalism
Read complete message